Discover more from Disruptive Horizons
I write about the disruption of the Nation-States by the Internet and Globalization, and how to transform from a Mono-Country to a Netizen Without Borders
Over 1,000 subscribers
How the Internet is Eroding Nationalism
The Diminishing Role of National Identity in the Digital Age
Note : this article is the 12th in a series on the disruption of nation-states by the Internet.

Here are the fourteen articles in the series:
Did you know that in 2021, people using Internet daily were 34% more likely to identify themselves as citizens of the world than those who used it more occasionally, whatever their country, age or level of wealth1?
This has profound consequences.
Imagine a world where borders are mere lines on a map, and our identity is shaped more by global communities than in the country where we were happened to be born.
Imagine this world being born before our very eyes, largely thanks to the Internet. That's the subject we're going to explore in this article.
And as we saw with the 10th principle of History for predicting the future, the sense of belonging to a common nation is an extremely important factor in the constitution of modern nation-states, and the Internet is disrupting this sense of belonging in many ways.
Let's see how:
Access to a diversity of viewpoints that transcend national ones
Before the Internet, it was difficult for most people to access points of view other than those of the country in which they lived, or of their cultural sphere.
Today, not only is the overwhelming majority of the world's media accessible at the click of a button, but social media enable people from all over the world to interact and exchange ideas not only regardless of nationality or geographical location, but often without even being aware of either.
This creates a globalized exchange of ideas, where the culture of a country far removed geographically from another can still influence it, strongly or not, unconsciously or not.
This reduces the geographical and cultural isolation that often strengthens national identity.
This is especially true for countries where the population speaks one of the major languages spoken in many countries around the globe (such as English, French, Spanish and Portuguese).
And of course, the fact that more and more people are learning English, making it the world's lingua franca2 , is an extremely disruptive factor in itself: someone who masters English as well as their native language has access to a diversity of opinions that is incommensurable with what they would have in their native language (more on this in later articles).
Access to communities that transcend borders
The Internet and social media enable millions of people to come together online, around things as trivial as hobbies or pastimes, but as profound as philosophies of life or political agendas.
So much so that, in some cases, a person may feel more a part of such an online community than his or her neighborhood, city, region or even country.
And it's reinforced by the fact that fewer and fewer people know, or even interact with, their neighbors: one study, for example, showed that nearly 35% of Americans never talk to their neighbors in 2015, compared to around 20% just 40 years earlier3 .
This study is aptly named "Less in Common", as it also shows other trends pointing towards an ever-increasing disconnection from the local, offset by an ever-increasing connection online.
Many people feel closer to their online community of like-minded people than to anonymous neighbors they've barely spoken to.
And even if the sense of belonging to one's nation outweighs the sense of belonging to one's online community, it's no less true that, often, this online community is made up of people from all over the world who bring different points of view to those commonly found in one's local cultural sphere, and who sometimes contradict them, which can also weaken the sense of national identity.
Greater mobility and less control over propaganda
Clearly, the development of commercial aviation has facilitated migration, tourism and work abroad.
This means that not only is it easier for everyone to meet people from other countries and cultures, but even the non-traveler has never had so much opportunity to meet, or at least cross paths with, people from all over the world.
This makes people less easy to manipulate. For example, during World War 1st , part of the population of each country involved believed certain aspects of government propaganda, and demonized the opposing camp, as the French did by calling the Germans "boches" and lending them a long list of defects that dehumanized them4 . 
Today, if the French and German governments tried to convince their people of the same thing, they'd have a much, much harder time convincing a much, much smaller part of the population: there are enough Germans who have been in contact with the French, and vice-versa, to form a "block of resistance" to any attempt to demonize an entire people.
This can erode the sense of belonging to a nation, as people have more transnational experiences.
For example, several 5 studies6 show7 that a growing number of people are declaring themselves above all citizens of the world, and that nationalist sentiment is waning.
And the Internet has a multiplier effect on all this, because it makes travel easier (allowing both "travel without travel", and greater mobility for people who work online), and makes it much easier to access foreign people and their opinions.
What's more, the Internet also makes it much easier to disseminate images and videos showing the real conditions of war, which certainly amplifies propaganda for those who only broadcast images of atrocities committed by the other side, but above all shows anyone willing to look a little that in a war, all sides commit horrible acts, and that there are innocent civilians and good people on both sides.
This makes "old-fashioned" propaganda much more difficult.
For example, throughout WW1, the Petit Journal Illustré published illustrations highlighting Germany's so-called nightmare, the riots taking place in Germany, the Kaiser's supposedly poor health, the atrocities committed by German soldiers , and even denouncing German propaganda, among many other denunciations, while gleefully valorizing the actions of the French army and population, whose atrocities and internal problems were carefully glossed over, and whose defeats were attributed to German "barbarism".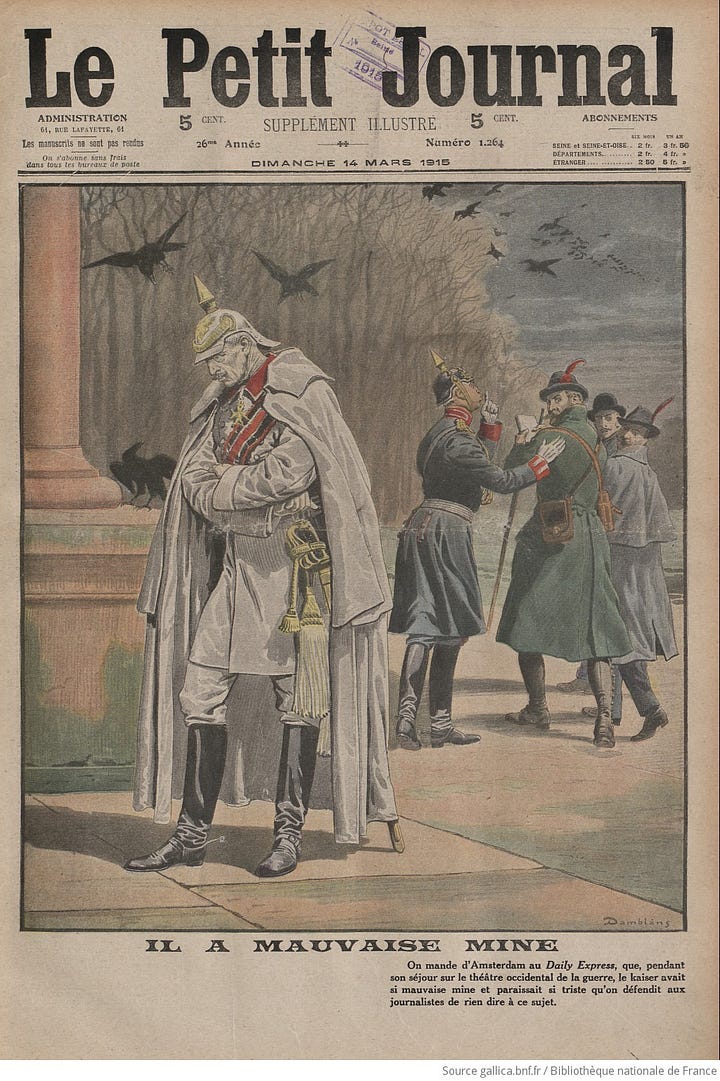 This kind of propaganda is still possible today, but it only works on people who want to be blinded: whereas in the 1910s, the populations of countries only had access to their national newspapers to be "informed" about what was going on, today news shared by parties with diverse interests and being based in multiple countries is easily accessible.
It's also much more difficult, if not impossible, for states to control information in times of war: instead of a few easily identifiable and influential newspapers, millions of people can share live what they see with the help of their smartphones, making news generation a massive, international and decentralized phenomenon.
We know what happens when nation-states try to tackle this kind of phenomenon.
Immigration and cultural diversity
Migratory movements have greatly accelerated since the invention of the airplane and the birth of globalization. The estimated number of international migrants was 101 million in 1980, 173 million in 2000, and 281 million in 2020, an increase of 58% and 61% respectively in the two 20-year periods8.
This naturally increases the proportion of a given population living in a country who were born abroad, which can increase cultural diversity within states, and can disrupt the consensus around national identity.
Of course, it also depends on 1) the willingness of migrants to integrate, 2) the capacity of host countries to integrate, and 3) the percentage of migrants in a country's population.
But it's one factor on top of another, and the Internet is also a gas pedal, as it facilitates travel and also makes it easier for migrants to stay connected to their culture of origin.
And some countries now have more migrants living in their country than native-born citizens, like the United Arab Emirates, where I'm living as I write this, 88% of whose population was born abroad9!
Other countries in similar situations include other Gulf states such as Qatar (77%), Kuwait (72%) and Bahrain (55%), and various islands and small territories (British Virgin Islands 73%, Liechtenstein and Monaco, 67%, Andorra 58%, for example).
With the exception of certain territories during the period of colonization, this is quite new in history.
Spreading world culture
Whether it's music, film or fashion, culture is becoming increasingly globalized.
Of course, American music, and Anglophone music in general, is omnipresent... but not only.
To give just one example among many, Korean K-pop group BTS has a huge worldwide fan base, record sales that exceed those of many Western artists, and several Youtube videos that have exceeded one billion views. Not only have they succeeded in reaching a global audience with their music, but they have also introduced aspects of Korean culture and language to an international audience, even though they have done many of their songs in English (most probably to reach a wider audience).
And that's just the tip of the iceberg: Hallyu, or the "Korean wave", is a massive, global phenomenon that has seen Korean culture conquer the world, with artists like Psy (Gangnam Style), Blackpink, series like Squid Games and films like Parasite reaching the whole world.
It's an excellent example of a culture that was once confined to one corner of the world, but is now spreading and influencing the whole world, thanks to new technologies and often the use of a global language - English.
And speaking of cinema, Hollywood's influence is also obvious, but not the only one: Indian cinema (Bollywood) and Nigerian cinema (Nollywood) are two film industries whose influence now extends far beyond the borders of their respective countries. Bollywood films are watched and appreciated the world over, with audiences not only in South Asia, but also in the Middle East, Africa, Europe and North America10 .
Similarly, Nollywood has become the second largest film industry in terms of films produced per year, with its films distributed and watched worldwide11.
Why nation-states vigorously defend their culture
Culture is widely recognized as an important component of the "soft power" of nations12 , i.e. their ability to make themselves loved - and therefore to encourage positive decisions towards them - and nations whose culture is too "cannibalized" by foreign culture(s) often react by trying to limit their importation.
For example, China has imposed restrictions on the number of foreign films that can be shown in the country each year, in North Korea, Kim Jong Un has called South Korea's K-pop "a vicious cancer that serves to undermine the government13 ", and the Iranian government has created the Ministry of Culture and Islamic Guidance, also known as Ershad, to oversee and control all cultural activities in the country, and is responsible for determining whether the works of musicians, writers, artists and media creators, including foreign ones, conform to Islamic culture and values.
And democratic countries are not to be outdone, notably... France, which with the Toubon law of 1994 requires the use of French in advertisements, product descriptions, instructions for use, etc., and imposes broadcast quotas for French-language music14 and films in the media15 .
It's clear, then, that many governments are sensitive to and fearful of the influence that foreign cultures can have on their nation, and therefore believe that these cultures can weaken national traditions and cultures, and thus the sense of belonging to the nation and its values.
However, with the Internet and modern storage systems, capable of storing hundreds of films on surfaces the size of a finger16 and easy to smuggle in, it's becoming increasingly difficult to censor this culture effectively, especially when there's a demand for it from the general public - who are generally all the more keen to have access to a culture when it's banned.
This is yet another factor in the weakening of the sense of belonging to a national culture.
International education
Opportunities to study abroad expose young people to global perspectives and ideologies, potentially diminishing their attachment to national identity.
And, as with all the other factors presented here, the Internet is a great gas pedal, allowing anyone with a connection easy access to courses, tutorials and other learning software and tools, which sometimes - or often - offer a global perspective.
Technology and remote working
With the ability to work remotely thanks to technology, people can work for companies abroad while living in another country, which can dilute their sense of belonging to a nation, not to mention the disruptions affecting labor and tax laws that I shared in a previous article.
All this leads to a definite erosion of the sense of belonging
A 2021 UNICEF study of 1,000 children in 21 countries17 showed that "born into a highly connected and digitized world, young people are far more likely than members of older generations to embrace global citizenship [and that they] are almost twice as likely as older people to say they identify most with being part of the world, as opposed to feeling primarily part of their local community or country", and that "this is true across countries at every income level."
The same study indicates that "among younger people, the median share who identify with the world rises from 33 per cent to 40 per cent if they use the internet daily; among older people, the median rises from 19 per cent to 28 per cent".
A very strong effect, and one that is likely to become more pronounced as the Internet increasingly disrupts nation-states: more and more people will have less and less attachment and identification with their native country, in a world in which borders have less and less meaning.
Which can lead to soft and hard problems
But what happens when part of the population no longer identifies with the nation of your nation-state? Serious problems can arise, ranging from strikes, protests, problems agreeing a unity government, peaceful attempts at sedition, to terrorism and even civil war.
So, on the "softer" side of these problems, we can look, for example, at the cases of Belgium (without government for 194 days in 2007-2008, 541 days in 2010-2011, and... 652 days in 2019-202018 , an absolute world record) or Catalonia (referendum on independence organized in 2016 even though it had been declared illegal by the Spanish justice system, in which 92% of voters said yes to independence, a result not recognized by the Spanish government).
On the "hard" side, from bad to worse, there's the Corsican independence movement, which has committed thousands of attacks and bombings since 1976 (although it's a relatively moderate movement that avoids civilian casualties, with "only" 70 victims in over 40 years19 ), Ireland's conflict with the IRA, which claimed 1,800 lives between 1969 and 1994, including around 600 civilian victims20 , or Lebanon, whose civil war between 1975 and 1990 claimed around 120,000 victims21 , and led to the exodus of around one million people22 .
What this means for the nations of the nation-states
Of course, the erosion of a sense of belonging doesn't have to go as far as these examples, whether soft or hard: it could correspond to the shift from a local to a national sense of belonging that took place during the formation of nation-states, except that here it would move from the national to the international level.
For example, a Breton of 1500 felt Breton, not French, even though he was a subject of the kingdom of France. A Breton of 1900 felt more like a Breton who was also French, and a Breton of 2000 felt more like a Frenchman from Brittany.
In the future, more and more people will feel like world citizens from country X, or like online community members who also come from country X or Y.
Such an evolution would not necessarily involve activist or violent movements, such as strikes or attacks, but rather :
A gradual disengagement of people from the institutions of the country in which they live, in favor of a stronger commitment to the online communities to which they belong.

A more pronounced tendency to exile and seek a better home, rather than trying to solve problems from within.

A search for new governance models that better reflect the new reality.

The search for a global, or at least multi-national, culture and education, rather than a purely national one, as the latter will increasingly seem too local and lacking in perspective.

A growing feeling that the services provided by the state are too expensive for their price (taxes and contributions).

An erosion of national patriotism: just as today, someone who is patriotic only of his village, town or region rather than of his country, would seem rather provincial, so someone who is patriotic only of his country of birth will increasingly seem irredeemably too local and rooted in the past.

Increased skepticism about national politics, seen as outdated or ineffective, which in democracies will lead to a drop in voter turnout (and it's already happening, as we'll see in future articles).

A shift in loyalty and trust from national institutions to international organizations and companies.

A decline in interest in purely local and national events or issues, unless they have international implications or repercussions.

This makes it harder for armies to recruit volunteers, and in the case of conscription, leads to lower morale and higher desertion rates.

A growing appreciation of international experiences, such as travel, study or work abroad, and the perception that these experiences are essential for a well-informed or educated person.

An increase in the number of people who speak several languages, and English in particular, partly out of a desire to be more connected to a global community.
This shift towards a globalized identity doesn't necessarily negate the importance of national identities, but it does signal a shift in which the nation is just one of many identities a person can choose to embrace, which will further erode its prestige, legitimacy and cohesion - an erosion that will also affect the state of the nation-state.
Coming Soon
In the next article, we'll see how nation-states are increasingly ceding their sovereign powers to supranational structures such as the EU, OECD or UN, making the nation-state as a political unit increasingly irrelevant.
The series on the disruption of nation-states by the Internet
This article is the 12th in a series on the disruption of nation-states by the Internet.
Here are the first eleven articles in the series: