Discover more from Disruptive Horizons
I write about the disruption of the Nation-States by the Internet and Globalization, and how to transform from a Mono-Country to a Netizen Without Borders
Over 1,000 subscribers
How International Remote Work is Disrupting Labor Law
How the Internet is disrupting nation-states, part 2/X
Note: this is part 2 of a series on how the Internet and globalization are disrupting nation-states.

Here are the fourteen articles in the series:
Remote working is bringing about another profound disruption for nation-states: the obsolescence of their Labor Laws.
It may startle you, but I think international remote work is going to do to white-collar workers what offshoring did to blue-collar workers in the 60s and 70s.
Why?
We've talked in the previous article about the fact that an employee or freelancer working entirely on his computer can now freely choose his jurisdiction from dozens or even hundreds.
And the reverse is also true: an entrepreneur who hires people to remote work completely, no longer needs to worry about where that person is geographically located.
If he needs her to work in synchronous mode, for example to take part in meetings or make phone calls, he can choose this person freely in any jurisdiction that is not too far from his time zone, for example + or - two or three hours, which, as we've seen, can mean dozens and dozens of different jurisdictions, depending on where it's located.
If he needs someone to work asynchronously - for example, to respond to customer emails within 24 hours - then he's free to choose that person from any country in the world.
And it's a lot easier than you might think, in fact it's already been easy for over 15 years: platforms like Elance (created in 1998) and oDesk (founded in 2003), merged in 2013 to form Upwork, which had 18 million (yes) providers available in 2019 (the last year Upwork communicated on this subject) in , divided into 167 sub-categories, themselves divided into 12 major categories, from 180 different countries.
An example with my own team
I currently have 30 people on my team, who are all freelancers, and are spread all over the world, largely because knowing where they are doesn't matter to me at all.
As I write these lines, my team members are in England, Spain, Lebanon, Morocco, Benin, India and even France, and one of them is a true digital nomad, moving around the world all the time (he's from Quebec).
They are therefore spread across a mix of developed and developing countries.
I told you I was agnostic about the location of my team members, and I have to tell you that I made an exception.
When Aziz joined the team as editor and translator, I was impressed by the quality of his work, and even more so when I learned that he is Beninese: I had this unconscious cliché in my head that someone born in Africa can't have excellent French.
Intrigued, I wanted to recruit more people from Benin, and at the time of writing there are 10: three copywriters (including Aziz, who is their manager) and their assistant, a developer, two community managers, a recruiter and a graphic designer.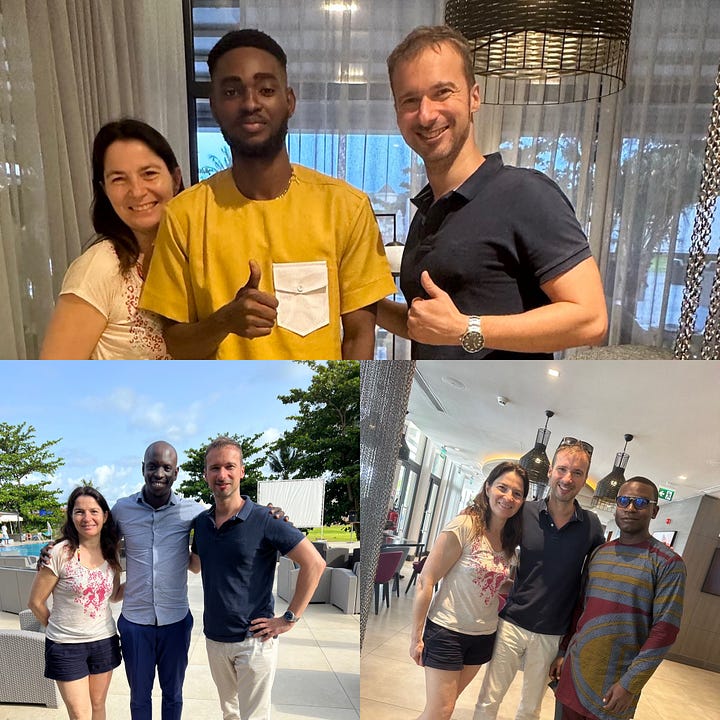 They all do excellent quality work, are paid well above the minimum or even average wage in Benin (which is even lower than in Morocco, which we will discuss below, with hourly rates of €0.46 and €1.57 respectively), and cost the company less than their equivalents in developed countries.
When I mentioned this to a Youtubeur friend, it didn't take him long to recruit video editors in Benin too, and he told me "they do a great job and cost three times less than their equivalent in France, it's crazy".
Reading these words may scare you: you see the profound disruptive potential for your country, and perhaps your work.
And perhaps you're wondering: is it ethical or not to outsource to such countries, where the cost of living is lower than in developed countries?
Why outsourcing to low-cost countries is ethical, extract from my book
The Way of The Intelligent Rebel
.
1. It creates jobs in countries that really need them
The first reason is quite simply that by employing service providers in these countries, you create jobs where it matters.
You enable people who are not fortunate enough to live in a developed country like ours to have access to a dignified job that supports them and their families. Of course, your country may lose jobs as a result - but not necessarily, as I'll come back to in point 2 - but in any case, there's no denying that these countries need them more than we do.
Outsourcing to these countries is therefore a much more effective way of helping them than making donations to NGOs, because you're enabling people to become self-sufficient and develop their skills by practicing a real trade, rather than maintaining the downward spiral of dependency1. Outsourcing in these countries is therefore a sustainable development solution for them.
Of course, nothing is black and white. But offshoring is not as black as the media would have us believe. I don't mind that not everything is rosy in your country either, but it only takes a visit outside the tourist areas of these developing countries to realize that, alongside their problems, ours are quite enviable.
2. This creates a lot of wealth in your country
It's true that outsourcing there reduces the number of jobs in your country of residence. But imagine: if you can have three full-time people working for your company - for the price of one in your country - do you think that's going to make a difference to the development of your business and generate more value for your customers, for yourself and for your country? You can be sure that it will!
With this extra staff, your company will grow faster, earn more money, and in return you'll pay taxes in your country, increasing its wealth.
3. Outsourcing in these countries is the opposite of exploitation.
A common criticism of outsourcing to low-cost countries, summed up in the negative connotation of the word "delocalize", is that it's exploitation.
Except that here we're not talking about outsourcing to little Chinese children who work 12-hour days in unsanitary factories : we're talking about entrusting someone with a job they can do at their own pace, from the comfort of their home or from anywhere else in the world, while earning a comfortable salary by their country's standards, enabling them to live comfortably and provide for their family.
In fact, outsourcing in this way enables many people in poorer countries than ours to work in far more comfortable conditions than if they had to take a "normal" job.
My example with Younes
Younes is my assistant and carries out many tasks for me: moderating comments on my blogs, animating my training course communities, editing most of my videos, animating my blogs' Facebook communities, managing and publishing text transcripts of my videos, managing e-mails sent by my audience, after-sales service e-mails, etc. He does many one-off or repetitive tasks that would take me a long time to do myself. It does many tasks, both one-off and repetitive, that would take me an incredible amount of time to do myself.
He lives in Agadir, Morocco. Do you know what the legal minimum wage is in Morocco? Go on. Say a number. Or think of a number instead, otherwise you'll look weird talking to yourself in front of your book.
At the time of writing, the Moroccan minimum wage is 2,902.0 dirhams a month, or 267.97 euros a month2. At the French 35-hour week, that would be just 1.53 euros an hour3 . But 35 hours is a luxury few countries can afford. In Morocco, the working week is 44 hours (6 days a week). This means an hourly wage of 1.25 euros per hour, with just one day off per week.
When Younes started working for me, he was just finishing his studies and so was working for me part-time. I paid him $3 an hour, a little more than twice the Moroccan minimum wage, a very good salary for a student.
Then he couldn't find a job that matched his degree and had to settle for a food job he hated, 44 hours a week, to earn that minimum wage. On learning this, as I was very satisfied with his services, I looked for other tasks to delegate to him and offered him to work part-time for me, increasing his salary to 5 dollars an hour. This changed everything for him: overnight, he quit his food job, and could work from home (or from anywhere else), part-time... and earn more than if he worked 44 hours a week in a soulless job.
Since I've always been very satisfied with his services, I've gradually entrusted him with more and more tasks, increasing his salary again. He now earns more than ten times the Moroccan minimum hourly wage, which enables him to live very comfortably, and he has even hired three assistants to whom he delegates some of the tasks I entrust to him, while waiting for other employees, as he aims to develop his services business for French-speaking entrepreneurs.
I wouldn't recommend outsourcing to just one person. What would happen if that person fell ill or had an accident? For my part, I also have an administrative assistant who deals with invoices, customer claims, etc. She is familiar with the company's operations. She's familiar with the way the company works. I also have a "general manager" who manages many aspects of my business, and I have many other service providers who look after other things.
Everything Younes does is described in written procedures, either created by me or by him. If Younes is unavailable, I can easily give these procedures to my assistant, who can then take care of the most vital tasks. And I also have a network of service providers who can take care of other tasks on an ad hoc basis. I can delegate some of Younes' tasks to these service providers. The ideal in outsourcing is to find excellent service providers with whom you're going to work regularly over the long term, or even hire them to work exclusively for your company on a full-time basis. But you should never put your business in the hands of just one person. I'll talk more about this later.
(This concludes the extract from my book)
The countries most likely to be disrupted by international remote work
So I believe that recruiting from developing countries is not exploitation - on the contrary, it can be an opportunity for a developed country's economy: just as the offshoring of industrial production has brought down the cost of many everyday items, including digital devices, the offshoring of some services will lower the cost of the final service delivered to the customer.
But I can see how this can destabilize a country and an economy, so I'm not saying it's necessarily good or bad: my aim is above all to share trends, and in particular trends that are disrupting nation-states.
The countries in the West most likely to be disrupted by this are those with a colonial past4 , whose language is spoken in countries poorer than themselves, and where the cost of living is much lower:
The English-speaking world is already recruiting massively in the Philippines - a former American colony where almost everyone speaks English - and can recruit in English-speaking Africa.

The Spanish-speaking world can recruit from the less developed countries of Latin America.

The Portuguese-speaking world can recruit in Mozambique, Angola, Cape Verde and St Vincent & Tomé (four Portuguese-speaking African countries), and to a lesser extent in Brazil.

And of course, the French-speaking world can recruit massively in French-speaking Africa, which is a huge talent pool.
And the revolution is already underway: a good proportion of the profiles found on Upwork (which, I remind you, is the world's largest marketplace) are in low-cost countries that speak these 4 languages.
Look at the Philippines, a favorite country for English-speaking companies to outsource low-cost tasks: the outsourcing industry was estimated to be worth $29 billion a year by 2021, which was equivalent to 9% of the country's GDP5!
And it is estimated that companies recruiting in this country can cut their employment costs by 70-90%6 (!).
And the more international a company is, the more likely it is to use English to communicate: you can't ask a Polish or Japanese person to speak French, but you can ask them to have learned English. And the spread of English, as we shall see, is helped enormously by the Internet, just as the printing press helped a national language to establish itself in a territory made up of many regional languages7.
And as usual, fierce competition is underway: companies that delay recruiting in these countries will be at a disadvantage compared to those that do, as they will incur higher operating costs.
Regulatory arbitrage
And it's not just a disruption of wage costs: it's also a disruption of regulations linked to workers.
Are the regulations for hiring the profile you want too strict in your country? Take on exactly the same profile, on a freelance basis, in another country, and not only will no regulations apply to you, but it might even be cheaper!
For example, in many countries, having a full-time freelancer work for your company over a period of time is forbidden: it's considered disguised salaried employment8.
Yes, but what if you have a company in France and you work full-time with a Belgian freelancer? A Frenchman living in Spain? A Beninese or Senegalese?
If you have an American company and you work with an English, Canadian, Australian, New Zealand freelancer, or one of the hundreds of millions of people who speak English as a second language?
I could go on and on, but you understand: it's simply beyond the jurisdiction of the various agencies responsible for enforcing the Labor Code.
Because what can a French agency do for a freelancer in Togo? How can it control the situation? What gives it the right to act? How can it force the Togolese freelancer to respond to its messages?
And if you're thinking "okay, but the Togolese agency can say something", I'd say it's the same situation, but in reverse: how can the Togolese agency investigate the French company? What is the basis for its right to act? How can it force the French company to respond to its messages?
And even if, somehow, an agency wanted to act, aided by new laws passed to that effect, there's a big difference between theory and practice, especially for international business, as we'll see throughout this blog and the book.
We'll see in a future article, for example, that even with the help of a razor-sharp legislative arsenal and international agreements, governments find it extremely difficult to enforce the payment of taxes that are legitimately owed to individuals and companies who are not resident on their territory.
If governments can't enforce the payment of their taxes in this situation - which is still their top priority - how can they enforce their labor laws internationally?
This is a shining example of the Internet's disruption of nation-states: their administrations are by definition limited by their borders, whereas the Internet is borderless, and it is possible in many situations to erect borders between administrations that could control you and your organization, and to do so asymmetrically - it's easy for you to do, and difficult for them to undo.
This ties in with principle number 5 that we saw in "10 Principles of History for predicting the future": an inversion of the balance of power between attack and defense technologies is highly disruptive for the powers that be.
But the big companies will try to comply with international regulations !
That's true. But :
1 : Most companies are not large
91% of American companies have fewer than 10 employees9, in Canada it's 74.1%10, in France it's 95.5%11 and in Great Britain it's 97.3%12, and at this level, they have no resources or knowledge to comply with any international regulations.
It's true, however, that these companies don't account for the majority of jobs: in Great Britain, these 97.3% companies represent 32.18% of the people employed, for example.
But it's also my point: these companies have few resources to hire locally, given the cost to them of a salary and its social contributions, and they could therefore benefit greatly from recruiting freelancers in developing countries.
This is even truer for companies with no employees, which represent the majority of small businesses (81% in the USA, 72% in France, 74% in the UK, 44% in Canada): given that they don't have the resources to take on an employee in their own country, recruiting at least a part-time freelancer located in a country with a lower cost of living could completely change the game.
This would be affordable for most companies, given that the cost of such a freelancer could be as low as a few tens or hundreds of euros/dollars a month.
What's more, in the USA, 33% of very small companies (with fewer than 10 employees) plan to operate completely remotely in the next 12 months13: for them, taking on freelancers in another country is something they can do naturally.
And even companies with between 10 and 49 employees, which combined with smaller companies generally approach 50% of employment in a country (46.83% in Great Britain for example), will overwhelmingly lack the resources to manage international regulations.
Not to mention the fact that, in the vast majority of cases, the directors and managers of these companies will not even be aware of their existence.
And, even among those who are aware of these regulations, most won't bother: they'll have other things to worry about (like complying with the major regulations in their own country) rather than bothering to follow the rules of a country on the other side of the planet where they've never set foot.
Consider the millions of English-speaking companies already outsourcing to the Philippines: how many of them have someone in-house who knows even one regulation of the Philippine Labor Code? How many care?
How can you control this multitude?
2 : Big business is a champion at finding loopholes in international regulations
As we shall see in more detail in future articles, with the example of some of the GAFAMs.
Taxes
You should also bear in mind that a freelancer does not pay taxes in the country of the delegating company, but in the country where he or she lives.
This is also true in the case of an employee of company B to whom work is delegated by company A, even though the two companies are not located in the same country.
This represents a significant loss of revenue for the coffers of the states in which the companies delegating work abroad are located, even if this is partly offset by higher taxable profits for the delegating companies, since it reduces their costs.
What's more, the freelancer or employee from the other country will spend his or her salary in that country instead, resulting in another significant loss of earnings for the outsourcing country.
A note on ethics
Note again that I'm not saying this situation is necessarily good or bad: I'm just describing the new possibilities offered by the Internet.
Nevertheless, I think that, on the whole, it's rather positive: many Labor Codes are dusty, complex, incomprehensible bibles, whose spirit and the essence of their regulations were conceived at a time when much of the work was manual, and far more arduous than it is today.
I'm not saying we should take advantage of this to abuse people: it's the best way to get them to leave at the first opportunity, as soon as a competitor makes them a better offer.
On the contrary, I think the Internet is the perfect opportunity to position yourself on the job market as the ideal company to work for.
How we work : the Asynchronous Company
That's the goal I'm aiming for, and here are the working conditions in my team:
There are no office hours: everyone can decide to do the "Miracle Morning" and get up at 5am, or get up at 2pm. To each his or her own, all we ask is that tasks be completed on time.

Of course, there's no office either: you can work from wherever you like. In fact, it doesn't even matter where you are in the world: even if some jobs require you to call customers, that just means you have to take into account the time difference.

We actively discourage real-time exchanges: meetings, phone calls and instant messaging are definitely not part of our daily routine. Note that they are not banned, but their use is actively discouraged. This greatly improves team well-being and productivity, as it has been proven that interruptions are one of the biggest factors in stress and loss of focus14 .

On the contrary, we encourage asynchronous exchanges, i.e. those that don't need to be in real time: emails of course, and above all Asana, the software that enables my whole team to collaborate. This means that no one expects an immediate response to a request: there's no urgency in the company.
Here's a concrete example of how these working conditions can change someone's life: when I went to visit my team in Benin for the 1st time, at the beginning of 2023, I was truly amazed at the recognition the team members had.
But it's Cindy's story15 that touched me the most: she says that we saved her from a dramatic situation, because the only company she found that offered her work offered her to work every day (including Sundays) from 7am to 10pm, for a salary of 60 dollars a MONTH (you read that right).
This wage was below the legal minimum in Benin, and the working hours were of course well above the legal maximum. But unfortunately, these laws are not enforced as they should be in this country.
A real form of slavery, absolutely revolting.
She refused, especially as she wanted to have time for her newborn daughter, but she was in a very difficult situation.
Working for us saved her. Today, she works from home, at her own pace, with plenty of time to look after her child, and earns $6 an hour - 12 times the minimum wage in Benin.
I'm not saying you have to be a savior in every situation, but that's what you should strive for: exceptional working conditions that naturally attract talented, self-reliant and resourceful freelancers (because not everyone is cut out to work in these conditions, some people really need to have a manager in the same building as them).
In conclusion: another Internet disruption that is extremely difficult for nation-states to manage
We can see that the trend to take freelancers abroad is extremely disruptive for nation-states, as it will create strong competition on wages in developed states, while creating numerous ways for companies to circumvent increasingly complex, dusty and obsolete labor laws.
And it comes at a time when 1) the trend towards full remote working is growing, and 2) the trend towards freelancing and international competition for increasingly mobile talent is intensifying, driving more and more remote employees to turn freelance to take advantage of the tax breaks offered by dozens of jurisdictions, as we saw in the previous article.
Now, this isn't all bad news for developed countries: as I've already said, this trend is likely to lower the cost of many services and even products for end consumers, just as factory offshoring did in its day, and a company that can have 3 talents working for it remotely for the price of one person at home will grow much faster.
And of course, not all jobs are concerned by this. But any job that's done entirely on a computer can be done from anywhere in the world: today, that's a lot of jobs!
So, in any case, it will be, and already is, highly disruptive.
In the next article, we'll be talking about the fundamental powerlessness of governments to tackle their favorite target - bottlenecks - in the face of the massive, decentralized, borderless phenomena enabled by the Internet
In the meantime, click here to follow Disruptive Horizons on Twitter, and debate these topics with me !